All types of seeds available
Launched in 2012, the Seed Library is a community resource that helps residents grow their own plants, and harvest their own food, while participating in a community-wide initiative. The program is designed to help Kahnawakehró:non share seeds and tools, experience healthy gardens, and to encourage food sovereignty. The Seed Library is a collaborative effort that was started between the Kahnawake Library and the Ieiénthos Akotióhkwa Planting Group.
Our seed library currently contains 58 varieties of vegetables, fruits and flowers, a mix of heirloom and local and non local varieties. Many are in limited quantities. Whether you have been planting for years, or are just wanting to get started, this resource is designed to support you in your planting journey.
If you would like to use the seeds, simply check them out of the library as you would a book. Grow the plant, and make sure to save some seeds so that you can return them to the library at the end of the season.
#1 Butternut Squash
#2 Blue Hubbard Squash 2011
#3 Tomato (Tumbler F1)
#4 Blue Corn 2012
#5 Delicato Squash Bio Sante 2006
#6 Summer Squash 2012
#7 Pole Beans
#8 Acorn Squash (Bio Sante)2006
#9 Beets Early Wonder Organic 2012
#10 Ground Cherry Heirloom 2013
#11 Rhubarb
#12 Tobacco
#13 Spaghetti Squash (Not very stringy) Bio Santé 2006
#14 Giant Beefsteak Tomatoes Heirloom 2013
#15 Cantaloupe
#16 Sugar Magnolia Organic (Sugar Snap Pea) 2013
#17 Kabocha Squash (Mexico)
#18 White Carrots Organic Heirloom 2013
#19 Amaranth
#20 Yellow Squash
#21 Heal All Self Heal (Nourish/Cleans Blood)
#22 Acorn Squash (Bio Sante) 2006
#23 Sweet Pumkin (for pies)
#24 Pumpkin Jack O' Lantern
#25 Orange Marigold
 #26 Iotsis'tsaiénthos (Safflower)
#27 Sunflower
#28 Corn
#29 Shell Bush Bean, Red Kidney
#30 Sweet Cherry Pepper
#31 Plum Tomato Amish Paste
#32 Early Mohawk Beans (Bush Bean)
#33 Wild Rice
#34 Lima Bean
#35 Heirloom Bean
#36 Echinacea Purple Cone Flower
#37 Painted Mountain (Flower Corn)
#38 Winter Euro-Kale Blend
#39 Deluxe Brassica Blend
#40 Brocoli Waltham
#41 Betterave Winter Keeper
#42 Spinach Seed
#43 Cardinal Lettuce
#44 Corn Salad Seeds
#45 Mustard Seed
#46 Black-eyed Susan (Onondaga) (Limited)
#47 St. Johns Wort (Limited)
#48 Marshmallow (Limited)
#49 Wormwood, Absinthe
#50 Raxe Radish
#51 Green Arrow Sheling Pea (Limited)
#52 Hyssop (Limited)
#53 Golden Midget Watermelon (Limited)


#54 White Pumpkin
#55 White Corn
#56 Blue Scarlet Beans (Limited)
#57 Popcorn Aliganie (Limited)
#58 Hollyhocks (red/white)
New to gardening? Feel free to check out our selection of books on planting and gardening at the library!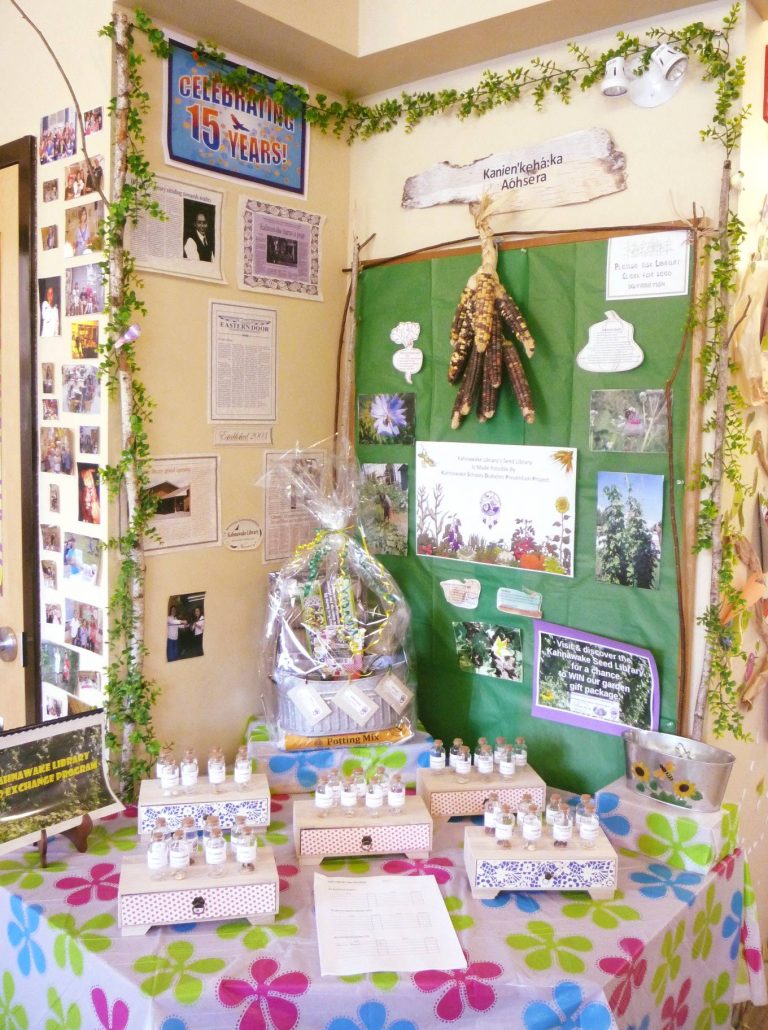 If you would like to share your seeds with other community members, drop them off at the library. Put them in an envelope or paper bag, and describe the contents: name, any planting instructions, year harvested, and where you got your seeds – include your name and details if you'd  like.

Our latest contributions come from:
Patsy Cross
Jamie Deer
Jeannie Monnick
Elaine Delaronde
Russell & Harley Delaronde
Margaret Deer
Debra Paul
Kahnawake Schools Diabetes Prevention Projec